Digital Production Chains – innovative and sustainable
TU Darmstadt opens the "Additive Manufacturing Center"
2023/05/17 by Silke Paradowski / Ruben Bischler
After approximately two years of construction, the Additive Manufacturing Center (AMC) at TU Darmstadt starts operations. The new centre for technology and knowledge transfer was officially opened on 16 May 2023. In future, it will act as a central point of contact for industry and business for questions and expertise relating to additive manufacturing, also known as 3D printing.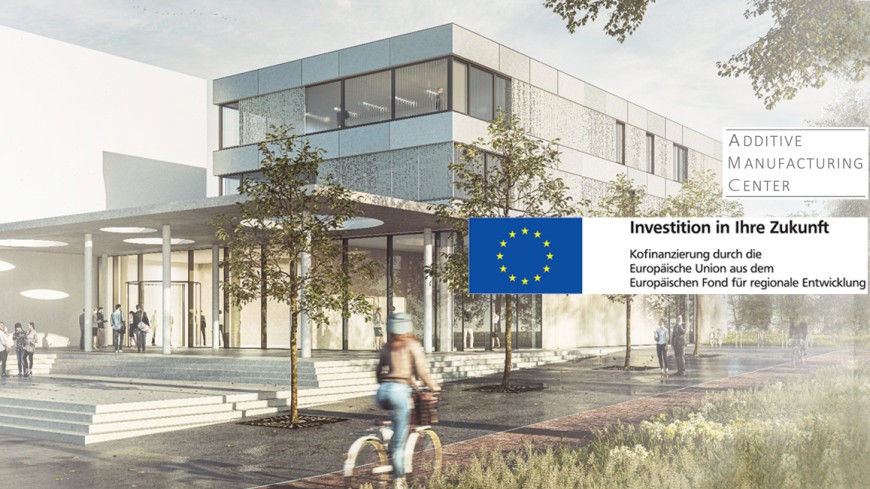 To fulfil this mission, 13 divisions from the departments Materials Science, Mechanical Engineering, Civil and Environmental Engineering as well as Law and Economics have organised themselves into a joint project at the TU Darmstadt.
"With the Additive Manufacturing Center (AMC), we are opening up a place of living cooperation and a place of innovation," says TU President Prof. Tanja Brühl. "Potentials of interdisciplinary research and new technologies are made available for application, especially for small and medium-sized enterprises. Along the entire digital process chain from product creation to recycling, the AMC enables close cooperation and co-production between science and industry – in line with the TU Darmstadt's xchange idea."
The new technology centre is equipped with the latest hard- and software for additive manufacturing, including advanced 3D printers, CAD software and other state-of-the-art tools. A unique feature is that the full manufacturing process chain – starting with raw materials, through component design and the printing process, to quality control – is represented in one building. This allows both students and industry employees to gain hands-on experience with the latest technologies and techniques in the field of digitally supported manufacturing chains.
The innovative AMC will offer high-quality training workshops and provide cooperation opportunities. In this way, regional medium-sized companies in particular will gain access to the scientific and technological potential of TU Darmstadt in newly developed additive manufacturing processes.
"With 3D printing, the AMC addresses one of the most innovative production technologies that will permanently change our production methods. The focus on education and training ensures that the innovative technology and know-how will be available for many skilled workers of the future," says State Secretary for Economic Affairs Dr Philipp Nimmermann.
In just under two years of construction, a new building with 1,160 square metres of usable space was erected for this purpose on Ottilie-Bock-Straße on the Lichtwiese campus. The building offers office space for cooperative working, seminar rooms for training and further education as well as laboratory and test areas for powder production, additive manufacturing, post-processing and materials and component analysis. The project has a total budget of 17.7 million euros. The TU will receive funding from the European Regional Development Fund (ERDF) of 8.85 million euros for this.
"The AMC is designed as a hub for education, training and cooperation between industry and TU Darmstadt," says Professor Matthias Oechsner, one of the initiators of the AMC. "We are convinced that this centre, as a place for joint development projects, will make a valuable contribution to accelerating the transfer of technology and knowledge from academic research into industrial application."
The training workshops offered at the Technology Centre are designed and led by interdisciplinary experts from TU Darmstadt. Participants learn about various types of manufacturing technologies and gain practical experience in the respective digital and real process steps – from design to the final product. The workshops offered cover basics such as occupational safety and process control but also advanced topics such as the use of machine learning for faster process adaptation, post-processing, as well as material analytics and component testing.
3D printing is a future technology that is gaining more and more importance. Workpieces are no longer produced by material removal, but by "printing" material layer by layer until the desired shape is finished. The technology saves costs and material, reduces production waste, gives a high degree of design freedom, shortens production times and enables the production of small quantities and very individual products. For both, developers and users, this means a completely new way of thinking when designing new components compared to conventional production methods. This is where the AMC comes into play. It imparts the necessary knowledge. In this way, the institution further strengthens the competitiveness of Hessian companies through its transfer activities.